Step 2: Maximizing Savings/Incentives/Quality and Minimizing Costs
Part 2 of 3-Part Series
3 Steps to Maximizing Your Return on Performance Contracting
It has been shown that independent review of the design, construction documents and construction, leads to increased savings, utility incentives and quality, while reducing costs. One of the most important ways of controlling costs is by requiring the ESCO to solicit bids from at least three pre-approved, qualified bidders for each work package.

Step 3 in the series will arrive in a few weeks.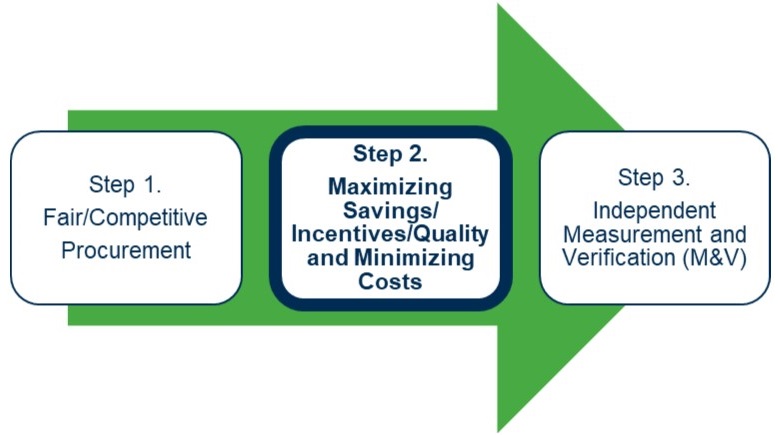 3 Steps to Maximizing Your Return on Performance Contracting
Maximum energy savings, utility incentives and quality: minimum, reasonable cost
Energy savings performance contracting (PC) enables building owners to use future energy savings to pay for up-front costs of energy saving projects, eliminating the need to dip into capital budgets.
But too often, performance contracting falls short of meeting expectations. It doesn't have to be that way. There is a proven approach that will maximize your return-on-investment, and includes three key steps:

Creates a clear scope of work, and a fair and competitive procurement process,

Uses a design and construction process that delivers the maximum in energy savings, utility incentives, and quality, at the lowest reasonable cost

Performs independent measurement and verification
For Info on Maximizing your ROI with Performance Contracting
Sitton's PCMax Solution is a proven approach to performance contracting consulting that helps Owners maximize savings, utility incentives and quality, while reducing the total cost and shortening the payback period.
https://sittoncg.com/wp-content/uploads/2022/02/Sitton_WebLogo-updated2-300x109.png
0
0
Nickname
https://sittoncg.com/wp-content/uploads/2022/02/Sitton_WebLogo-updated2-300x109.png
Nickname
2018-04-06 18:08:39
2018-12-18 17:15:48
PC Max eNews: Three steps to Maximizing Your Return on Performance Contracting – Step 2 of 3